WINGMAN 4.5% LIMITED EDITION CAN
It's no secret 2020 has been as rough as a pair of hessian undies! But, it's been our frontline workers who have seen us through — protecting Aussies through one of the most challenging years in history!
That's why we're thrilled to launch a limited edition, 1000 cartons of Wingman Beer 4.5% in cans, saluting those who have helped Aussies weather the storm! Go to one of our social media pages and tag your frontline wingman — and 10 lucky workers will receive a case of the limited edition Aussie-flag branded lager from you and the Wingman 🇦🇺
WINGMAN 4.5% ON TAP HAS LANDED
This video and announcement is to all our loyal supporters those who have actually been OUR Wingman! This 4.5% beer is by far our best work and whilst it took a fair time to develop, when you taste the smooth, crisp, clean lager with zero aftertaste,  that wait will be worth it!
We are on TAP at a local near you! Head to our Arrivals Lounge to find out where we've landed!
So, what are you waiting for?
Grab your Wingman, strap yourself in, turn the volume up and Let's go!!
A WINGMAN LETS YOU KNOW WHERE YOU STAND
We're hiding something
pretty useful under our cap
Enjoying a few beers is easy. Keeping track of how many you've had however, that's another story. A Wingman is always there to remind you with the number of standard drinks listed under each bottle cap. Pop them in your pocket and at the end of the day, you'll know exactly where you stand.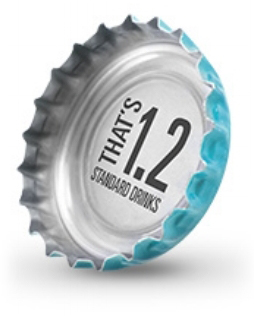 A WINGMAN
Always Has
Your Back.
FLY SAFE.
DRINK RESPONSIBLY.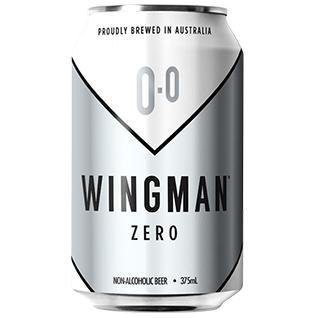 WINGMAN ZERO ALCOHOL
SAME WINGMAN – ZERO ALCOHOL
A cold, 0% full-flavoured beer that tastes just like a WINGMAN! Designated driver?
New WINGMAN Zero is about making good decisions. In a world first, WINGMAN Zero will contain an active ingredient that we think will be a real game changer. More information coming soon!
At WINGMAN, we say enjoy the 0% full-flavoured beer, as there's always tomorrow!
What makes a WINGMAN?
A LABEL THAT TURNS BLUE WHEN IT'S THE PERFECT TEMPERATURE TO DRINK.
A Wingman knows there's nothing worse than a beer that's not quite cold enough, which is why our label changes from silver to blue to let you know when it's at the perfect 4.5°C temperature.
A CLEAN, CRISP TASTE THAT WON'T WEIGH YOU DOWN.
A Wingman doesn't leave you with a bitter aftertaste and would never weigh you down. Our clean, crisp taste makes us the perfect Wingman for any occasion and if you're looking for a session partner, we've always got your back.
A STRAIGHT TALKER THAT TELLS IT LIKE IT IS.
A Wingman is always open and straight to the point, which is why we proudly display our alcohol volume of 4.5% big and bold on our bottles and tap decals.